General
Falcon News - Mar 23, 2023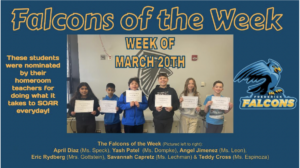 Important Dates
MAR 20 – APR 2 Virtual Book Fair
MAR 24-31 – Spring Break
APR 4 – School Night Out – Roost 83
APR 5 – Talent Show Tryouts
Talent Show
Tuesday or Wednesday Student Act Audition Process Students do NOT need to attend both sites. They are to pick a site and will be given a performance audition number.
Dates: Tuesday April 4th @ GMS 3:30 till complete
           Wednesday April 5th @ Frederick 3:30 till completeAt either site, we will be using the GMS stage and at Frederick we will use the front of the stage area.
Show Week! Rehearsals will be held on the following dates at GMS Large Gym Site Monday through Thursday April 10th-13th from 3:30– till complete
Show Performance One Night Only!!! Friday, April 14th with a curtain at 7pm Performance @ GMS Large Stage Area
A lot to share in this week's attached newsletter
*Superintendent's Message
*Yearbook
*Frederick Kindness Project
*Iron Giraffe Challenge
*Talent Show Information
*Frederick Family Book Club
*PTO News
*Family University – Legal Planning for Families
*5Essentials Survey
*IAR State Testing
Download the newsletter and attachments